You may remember that we moved into our new house last November. Well, after six months, two floods, four weeks of construction, sixteen paint samples, three HVAC problems, and one secret room we were finally able to invite our families over to celebrate!
I decided to incorporate some DIY paint chip projects into the party. (I figured we hard earned the right to some extra paint chips after buying sixteen samples of paint and enough gallons to paint every room in the house!)
I made some adorable, simple menu cards, of which I naturally didn't get a single picture! Forgive me, it was a very busy morning preparing to host fifty of our friends and family. I simply cut the paint chips down to size, wrote the menu item on the front, and used some washi tape to affix them to long toothpicks. Throw some decorative sand in a shot glass and stick the suckers in. Voila!
Next, I made these awesome paint chip fans following this tutorial. They did double duty as centerpieces and party favors. They were certainly appreciated seeing as it was mid-July and our backyard gets direct afternoon sun.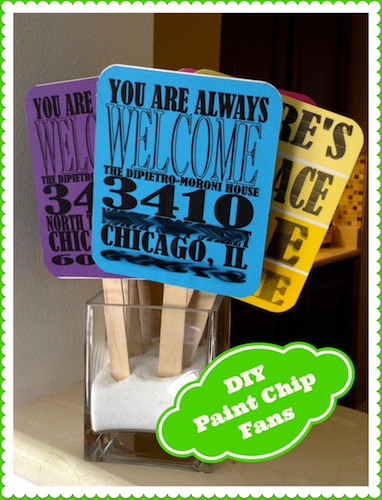 A special note about printing on paint chips: I used an ink-jet printer and no matter what I tried the ink just wouldn't set. I've heard people have had similar frustrations with laser jet printers so who knows. I ended up covering the paint chip in contact paper before gluing the back to it. An extra step, but no smudged ink.
Want more paint chip projects? Check out my Martha Stewart Paper Strip Garland Knock-Off made with paint chips!