Mr. Rosy and I have a lot going on this holiday season. And for just that reason we decided that we wouldn't be doing any traveling. It'll be so much easier this way we thought.
Then we decided to host Mr. Rosy's mother and step-father for Christmas Eve. And his brother. And his aunt and uncle. And his cousin and her husband. And his cousin's cousin and her boyfriend. And well, you get the picture. So we had a great big Christmas Eve dinner party for eleven. I promised Mr. Rosy I wouldn't go overboard. Just a simple centerpiece with some fresh evergreens…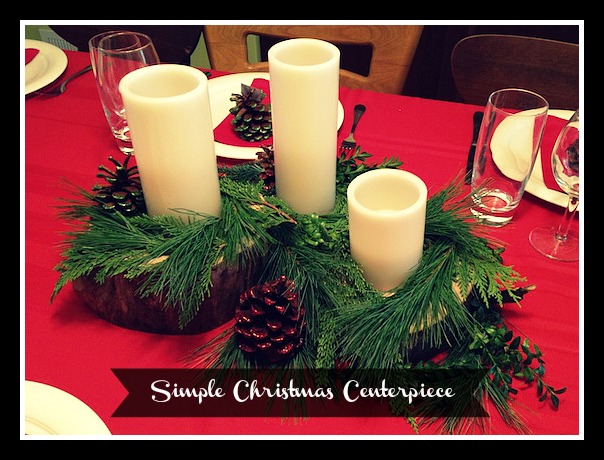 Well, when he saw me hand painting each tip on a bunch of pinecones, he sheepishly inquired if I felt this was keeping things simple. But honestly, this table setting couldn't have been easier.
I wanted to go natural, using the cool log risers I had left from this 30th birthday party. Add some flameless candles (you don't want to be babysitting dripping wax when you're hosting a dinner party) and some evergreens and you're set.
For the most part… Because then it hit me, with this many people it's a good idea to have place cards. I happened to have a bunch of those cinnamon scented pinecones around which fit with the natural feel and could hold a small name tag, but they needed something extra…GLITTER!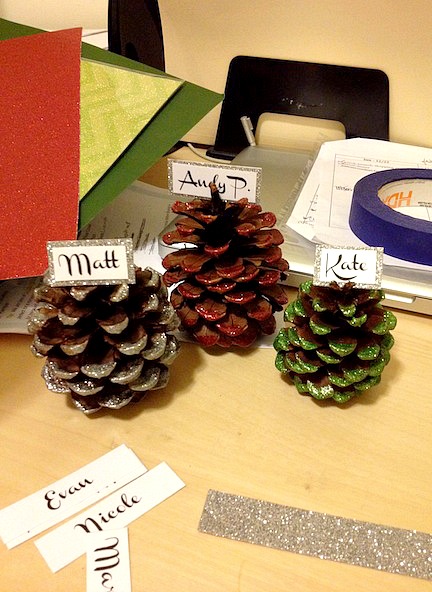 I used this method from Camille Styles in which you use a paintbrush to individually add dabs of paint to each point. But about halfway through I realized that you can just roll the little suckers in the paint and then do some final touches with the paintbrush. It saves a ton of time that way.
[Note: I used this glitter paint from my local craft store and freaked out a little when I started because it doesn't look like much when it's wet. Just take a deep breath and wait until the stuff dries, because it really is a glittery sensation.]
I wish I had a picture of how beautiful the whole table looked with the lights dimmed and the candles on. But, did I mention we were hosting eleven people?!?! So, you'll just have to trust me. It looked beautiful and there were lots of compliments. The centerpiece still looked great the next day for Christmas brunch. And I swear, it really is easy.