I love truly unique welcome bags, goodie bags, swag bags, favors, and all other forms of attendee gifts. Of course, we all know how easy it is for these types of items to end up in the trash or left behind. I believe it takes real skill and determination to come up with something that your guests are going to truly appreciate. Which is why I'm so excited to share this little idea with you.
During the recent Cushman & Wakefield Industrial Conference, attendees were welcomed to Nashville with this awesome welcome bag put together by Cushman & Wakefield's local office. The "Nashville Lunch" bags included Jack Daniels, Whisper Creek (Tennessee's version of Bailey's), a small map with recommendations for local dining and entertainment (not pictured), and a box of "industrially strong" peppermints reminding these business men and women to "never make a pitch without a mint." It was all tucked inside a traditional brown bag lunch sack and handed out as attendees arrived (at noon). Of course, they also made a few bags for any non-drinkers that included Nashville's famous Moon Pies and GooGoo clusters in place of the alcohol.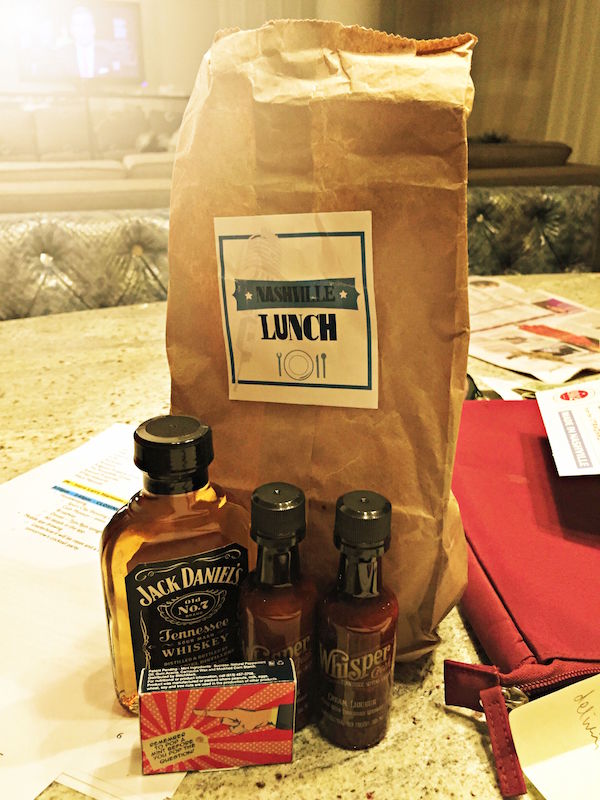 I can tell you that not a one of these was left behind! In fact, they created such a buzz that we had people coming to the registration desk asking for one up until the last day of the conference.