Let's face it. We can plan the most amazing meeting with dynamic speakers, relevant information, ample breaks, upbeat teaser music, and maybe even something out of the box thrown in just for fun. But when presenters look out at the crowd these days, what do they see?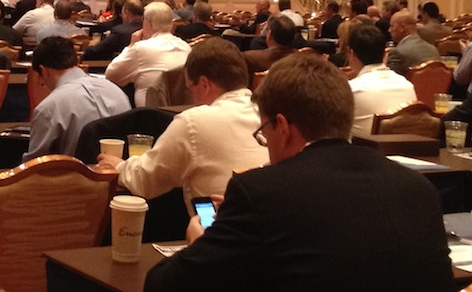 About half of the attendees staring down at a tiny screen checking email, surfing Facebook, or sending a text to the guy sitting next to him. And that's on a good day.
This is a problem that (aside from ordering all attendees to relinquish their devices at the door) is nearly impossible to beat. And you know what they say. If you can't beat 'em, join 'em!
Meeting Apps
Meeting apps are nothing new. In fact, they've become increasingly popular over the last five years. Many include maps, agendas, badge or business card scanning, speaker bios, sponsor information and more. It's too soon to tell if these programs will result in the demise of today's clunky, time consuming (and often expensive), printed conference guides, but some experts are predicting that will be the case.
What is new is the price to create a custom meeting app. Thankfully, it seems the days of apps being accessible only to the big budget players are ending. Companies like Bloodhound and Twoppy make it free and easy for meetings of all sizes to take advantage of the benefits of event specific apps.
Nice Meeting: Event Technology for Screen Lovers
While planning an industrial real estate conference recently, I was able to work with the good folks at Nice Meeting to make my dreams come true. A room full of meeting attendees inevitably staring down at their mobile devices AND engaged in the meeting!
Nice Meeting allows attendees to view presenter slides, take notes on them, and save them for later all on their mobile devices. Attendees can opt to view the slides along with the presenter or at their own pace. They can also submit questions directly to the presenter and chat with other attendees, again all from their mobile devices.
It was fascinating to see it in action. And, for those of us who are on a budget, Nice Meeting is happy to incorporate sponsor ads and include a customized log-in page with logos. Your attendees don't have to download anything on their devices to access it and Nice Meeting brings in all the required technology. It's like magic!
Social Media Integration
Planners should stop thinking of social media as just a tool to boost registration and sales. There are some great new apps being developed to increase networking at events by leveraging social media. And after all, networking opportunities are one of the top reasons attendees, exhibitors, and sponsors participate.
Qrious uses information gathered during the registration process to make recommendations to attendees about who they want to meet and why. The program takes into account the attendees' goals for the event, role in the industry, specific business interests, and existing social nets.
Bizzaboo combines the concept of a conference app and networking app. Planners can upload maps and agenda information, including speaker bios and contact info, and let individuals build their own calendar for the event. Added bonus: Planners can send announcements to attendees in real-time. (I can't wait to hear the sound of everyone's cell phones beeping to alert them that the session is starting instead of the delightful chimes from the food & beverage staff.)
What really sets Bizzaboo apart from the others is the level of social interaction it encourages. Undoubtedly using some ridiculously large algorithm, Bizzaboo tells attendees who they need to meet based on their personal business profile. But it doesn't just give them a name. Using the app, attendees can connect to each other immediately, set up face to face meetings, and integrate with their LinkedIn account to stay in touch after the event.
All these advances in meeting technology makes me wonder what they'll possibly think of next. What problem are you hoping technology can solve at your next meeting or event?